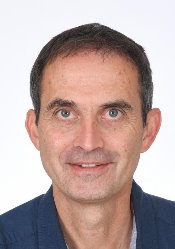 Dr.
Ariel Barel
Contact information

Email:

arielbacs.technion.ac.il

Office:

720

Phone:

(972)-4-829-4957

Research interests

Distributed Control of Multi-Agent Systems.

Selected publications

Shmuel Y. Hayoun, Elchanan Zwecher, Eran Iceland, Ahavatya Revivo, Sean R. Levy, and Ariel Barel, "Integrating Deep-Learning-Based Image Completion and Motion Planning to Expedite Indoor Mapping", arXiv:2011.02043 [cs.LG].

Ariel Barel, Rotem Manor, Alfred M. Bruckstein, "COME TOGETHER: Multi-Agent Geometric Consensus (Gathering, Rendezvous, Clustering, Aggregation)", arXiv:1902.01455 [cs.MA] [bibtex].

Ariel Barel, Rotem Manor, Alfred M. Bruckstein, "Probabilistic Gathering Of Agents With Simple Sensors", arXiv:1902.00294 [cs.MA] ] [bibtex].

Barel A., Manor R., Bruckstein A.M. (2018) "On Steering Swarms". In: Dorigo M., Birattari M., Blum C., Christensen A., Reina A., Trianni V. (eds) Swarm Intelligence. ANTS 2018. Lecture Notes in Computer Science, vol 11172. Springer, Cham [bibtex].

Awards:
IRC 2020 XIV. International Conference on Multi-agent Systems Engineering and Technology (Tokyo, 2019). Certificate of best presentation award.